Expert Plumbing and Water Conditioning Services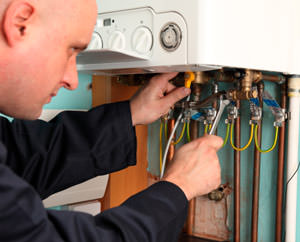 At Pipe Works Services we are proud to serve our area because we put customer service above all else. Our trained technicians use only high quality materials from the best manufacturers around, ensuring quality, long lasting results for your home. We want to help find the solution that will work best for you!
We know that plumbing isn't something that most people thing about until something goes wrong with it. When pipes freeze, crack, or begin to leak, then we are the contractor for you! No job is too big or too small and we can provide reliable, quality repairs and replacements so that the job is done right the first time. Our team of plumber technicians are ready for your call to fix your plumbing problems.
A common problem with water that comes into your home or business is that it is "hard" water, making your water heaters work harder than they need to. This compromises the ability of the heaters to clean your dishes and clothes the right way, leaving the chance for bacteria in water to cause illness. Trust the experts at Pipe Works Services to provide water conditioning and water treatments that will ensure that your water is clean, safe, and healthy.
Air Conditioning & Heating Services in Union, NJ
Pipe Works Services provides air conditioning repairs and installation. The best way to avoid a problem with your air conditioning unit is to have it checked and serviced regularly, that way we can nip any serious problems in the bud. You don't want to be stuck with an air conditioning problem when you really need it in the summer, so count on us to make sure that your home is comfortable and cool!
Common air conditioner problems
Dirty coils
Burned-out compressor motor
Blocked condensate drain
Leaking refrigerant
Blower problems
Leaky ductwork
Along with air conditioning, Pipe Works Services provides homeowners of Union and Union County reliable heating services. We understand that winters here can get very cold, and we want to make sure that your home is comfortable year round. We offer repair and replacement for all types of furnaces such as gas and electric, boiler replacement and repair, heat pumps, and much more. If your home isn't as warr as you would like it to be, contact the home heating repair experts at Pipe Works Services today!
Heating Services We Offer:
Furnace Repair & Replacement
Boiler Repair & Replacement
Heat Pumps, Gas, Electric & Forced Air
Lennox Furnaces
Excellent Home and Attic Insulation in Union, NJ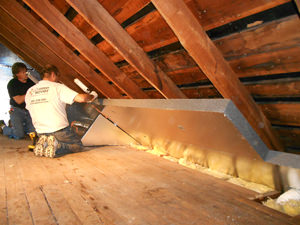 Your home can loose heat easily through gaps and cracks in floors and ceilings. When hot air rises in the winter and escapes through a poorly insulated attic, then new air is drawn in from the outside through the basement or crawl space. This cold air is then circulated through your house, causing your heating system to work over time and your home to be uncomfortably cold.
The way to prevent this is to insulate your home, the attic and crawl space in particular. Additionally, air sealing your home is important because our experts can pinpoint the cracks and gaps that air is leaking through, making your home more energy-efficient. Our SuperAttic system can professionally insulate your attic so that it does not allow heat to escape through it in the winter and control heat in the summer.
If you're looking for plumbing, HVAC, electrical services and more, Pipe Works Services has the tools and the expertise to keep your home cool, clean and comfortable all year-round! Let our team of friendly, knowledgeable staff and certified technicians work with you to find the solution that will work best for you and give you quality, long-lasting results! Call us today for a free estimate!