Call Our Plumbing Experts 24/7 to Solve Your Problem
Disaster strikes at the most inopportune times. Luckily, Pipe Works Services offers 24/7 emergency plumbing repairs that include all holidays and after-hours service. Some plumbing emergencies occur because of accidents, like cutting into a water line by mistake. In other cases, bad weather can cause plumbing lines to freeze or burst. But many plumbing emergencies are due to the normal wear and tear of everyday use. Drains clog and back up and water heaters begin to leak.
No matter what causes a plumbing emergency, quick action is almost always important to avert property damage or to restore plumbing operations so the household can function normally.
When disaster strikes, count on us for fast action
If there's a plumbing emergency at your house, you want your first phone call to be your last and only call. You can count on Pipe Works Services to provide prompt, 24-hour service for all plumbing emergencies. Most times, we can dispatch our technician to your home within the hour. Our technician will arrive in a drain cleaning/jetting truck with all of the tools to diagnose your problem and get you up and running again.
Pipe Works Services offers leak service protection appliances that can be installed on pipes and all water-related home appliances. Check with your homeowner's insurance agent to see if they cover the cost of the product or installation.
We can complete prompt, expert emergency plumbing repairs in the following areas:
---
Pumping out a flooded basement
Restoring water pressure
Replacing a leaking water heater
Fixing a running toilet
Replacing sump pumps & sewage ejector pumps
Thawing frozen water pipes
Sewer cleaning & repair services
Repairing & replacing burst water pipes
Clearing clogged drains
Replacing a shower mixing valve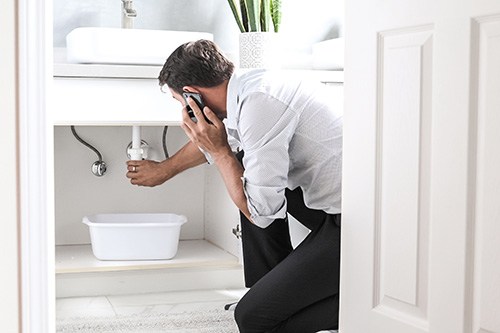 Avoid a plumbing failure with inspections & maintenance
The expression "an ounce of prevention is worth a pound of cure" is especially true with plumbing systems. Many plumbing emergencies can be avoided by scheduling a plumbing inspection to identify worn items that should be replaced before they fail. For example, tank-type water heaters can rust out from inside the tank, displaying no weakness until a leak causes the basement to flood.
Sump pumps and sewage ejector pumps should be inspected at least once a year to make sure they can still function effectively. Even the hoses that supply your washing machine can wear out and leak. By calling in a licensed plumber to inspect your plumbing, you can avoid the expense and inconvenience of many plumbing emergencies.
Contact the experts at Pipe Works Services for a fast inspection and an estimate in Madison, Chatham, Summit, Union, Short Hills, Basking Ridge, Florham Park, Millburn, Clifton, Somerset, and surrounding areas.