Improve the comfort of your home with our air sealing services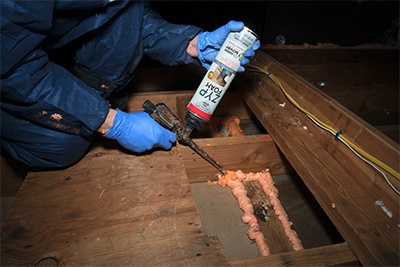 Sealing air leaks in your home is a simple, cost-effective way to lower heating and cooling costs, increase comfort, and create a healthier indoor environment. Heat can find its way out of the home through a wide variety of gaps, cracks, and holes in all parts of the house. With our blower door test and home energy audit, we can quantify how much air is leaking out of your house and pinpoint the leaks.
From the attic to the basement, Pipe Works Services can locate and seal air leaks throughout the home. If you're interested in having us diagnose your home, call or e-mail us today! We proudly offer our services in Chatham, Madison, Summit, and many areas throughout New Jersey.
Benefits of our air sealing services:
---
Air sealing can reduce heating & cooling costs by an average of 15 percent (based on EPA estimates).
Your home's air leakage can be accurately measured during our blower door test.
Air sealing is a "once-and-done" repair.
Improved indoor air quality.
Pipe Works Services uses special equipment to identify even the small, less obvious leaks.
Comprehensive inspections and estimates.
Common sources of air leakage
Air sealing target's common locations where air leaks occur in a house:
Plumbing and wiring penetrations through floors, walls, and ceilings
Around chimney passes
Attic access hatches, doors and drop-down stairs
Around recessed lights and fans
Air seal air leakage in the home
Cracks, gaps & holes in drywall or plaster
Around electrical outlets and switches
Sump pump holes
Bath fans
Leaky basement windows
Rim joists in the basement or crawl space