Expert trenchless sewer line & underground pipe services
Do you need to repair or replace a sewer line or install a new water pipe between the main supply line and your house? Home and business owners dread buried pipe repairs and installations because of trenching work that damages landscaping elements and paved areas.
Wouldn't it be great if buried pipe repairs and installations could be done without trenching? They can! At Pipe Works Services we can eliminate destructive trenching by using advanced trenchless equipment.
Contact us today to schedule an on-site inspection and quote for our trenchless plumbing services in Chatham, Madison, Summit, or Northern and Central NJ.
Trenchless technology can be helpful for many applications
---
Repairing and replacing underground water lines.
Connecting the building sewer line to the main sewer line.
Boring holes beneath sidewalks, driveways, and other paved areas.
Installing underground water lines for gardens & outdoor faucets.
Cured-in-place pipe (CIPP)
A cured-in-place pipe (CIPP), also called pipelining, is a trenchless rehabilitation method used to repair existing pipelines that are leaking or structurally unsound. CIPP doesn't require digging so there is no damage to landscaping, hardscape, floors, or other structures. CIPP is a jointless, seamless, pipe-within-a-pipe that is typically installed through a manhole or other existing access point. Pipelining can be used to repair water, sewer, gas, and chemical pipelines.
Pipe Works Services uses state-of-the-art trenchless pipelining products and methods from Perma-Liner.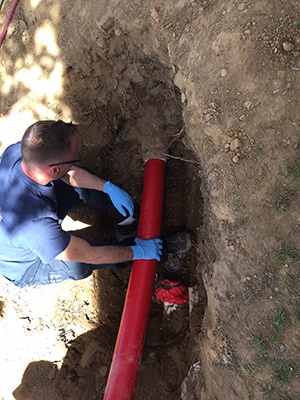 Trenchless pipe replacement and installation in NJ
If you need new plumbing lines installed outdoors, we can help. Using advanced boring equipment, exterior plumbing lines can be installed and replaced without damaging your property with trenches. Our technicians love trenchless boring technology because it always provides a welcome alternative to digging trenches. The GRUNDOMAT® underground rams we use represent the most advanced technology available.
Get a quote for trenchless plumbing
We provide on-site evaluations and estimates for all plumbing services, including trenchless digging and boring. Contact us today to request your consultation and estimate!